Departments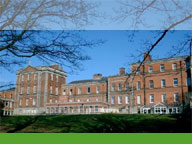 Downloads

Information Sheet on Clinical Psychology
Referral Form for Clinical Psychology

Patient / Client Satisfaction Questionnaire
Departments
Clinical Psychology Service
Overview of the Clinical Psychology Service
The Clinical Psychology Service at St Vincentís Hospital Fairview provides services primarily to adults, though also to adolescents who attend the hospitalís Day and In-patient Adolescent Service.
...............................................................................................................................................................................
There are currently five full time posts providing a range of services within both community and hospital settings and therefore patients may be seen in either location (i.e. at a local clinic or at the hospital), depending on the type of referral. The service mainly sees people who have been referred to a local Community Mental Health Team, for example by their GP, or who otherwise attend the hospital.
Typically, a clinical psychologist will first provide a detailed assessment of a personís needs and difficulties. This leads to an understanding of, and formulation of, why the person has been referred to the service, which in turn leads to agreeing with him or her a treatment plan or ďcare planĒ. Often several professionals may be involved in the care plan either simultaneously or at different points in time.
In terms of treatment, a wide variety of psychological treatment options exist including the following:
1. Cognitive Behavioural Therapy
2. Systemic Family Therapy
3. Psychoanalytic Psychotherapy
4. Integrative Psychotherapy
Treatment may be offered on a one-to-one basis, within a small confidential group setting, or to a couple/family, depending on what seems most appropriate and/or useful. The Clinical Psychology Service works closely with the hospitalís Psychotherapy Service and provides some care/treatment within that setting.
Useful Information
More information on
Clinical Psychology
Who are Clinical Psychologists?
Clinical Psychologists are specialist Psychologists with a minimum of six years university training including approved post-graduate studies and clinical placements. Clinical Psychologists are specialists in the assessment, diagnosis and treatment of psychological problems and mental illness. Psychologists are bound by a Professional Code of Ethics, as laid down by the Psychological Society of Ireland. This protects a patientís right to confidential and unbiased treatment.
Accessing the Clinical Psychology Service
The psychology service in St Vincentís Hospital Fairview only takes referrals from the Community Mental Health Teams working within the hospital and we regret that we cannot take referrals directly from GPs or other medical practitioners working outside of the hospital. A CMHT is made up of a number of professionals including Psychiatrists, Community Mental Health Nurses, Clinical Psychologists, and Social Workers etc. One or more members of the team will meet with you as part of an assessment process and after that, and if appropriate, you will be offered treatment. Treatment may include therapy provided by a clinical psychologist, either as a sole intervention, or alongside other interventions (e.g. medical prescription of drugs).
Contact Details
For inquiries related to services provided, please phone the Clinical Psychology Service: (01) 884 2453. Address: Clinical Psychology Service, St. Vincentís Hospital, Fairview, Richmond Road, Dublin 3.
Training, Consultation, and Research
As a part of their professional activities, Clinical Psychologists often undertake research activities, take part in the training of doctoral level Clinical Psychology students, or offer professional consultation from a psychological perspective to others in the mental health field.
Examples of current research projects in the service include:
Evaluating the impact of Dialectical Behaviour Therapy in an Irish Mental Setting
Evaluating a Self-Help Clinic for depression
Suicide prevention and helping those with recurrent suicide attempts