Departments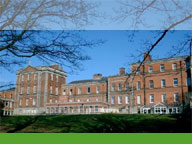 Downloads

Information Sheet on Clinical Psychology

Referral Form for Clinical Psychology

Patient / Client Satisfaction Questionnaire
Clinical Psychology Department
Integrative Psychotherapy
Introduction
Integrative Psychotherapy emphasises understanding and treating the person, by seeking an integration of that personís emotions, thinking, behaviour, bodily sensations, and social relationships.
...............................................................................................................................................................................
In this form of psychotherapy there is a focus on achieving greater levels of self-acceptance and personal growth. An integrative psychotherapist adapts and integrates into their therapeutic work specific techniques that are used in other forms of therapy. An integrative psychotherapist may use at some point very similar techniques to a CBT therapist, for example when working with anxiety.
What happens in INTEGRATIVE PSYCHOTHERAPY?
Here is an example of how an integrative psychotherapist might think about a psychological problem. A psychological difficulty develops, when a person experiences an invalidating and / or traumatic environment, whereby their sense of self is hurt or damaged in some way.
See diagram below.

In this situation, an integrative psychotherapist would work with a patient / client to enable them to have within the therapy a new or "corrective emotional experience", which would allow them to overcome their difficulty. In order to do this, the therapist provides what is known as a "validating environment", as illustrated below.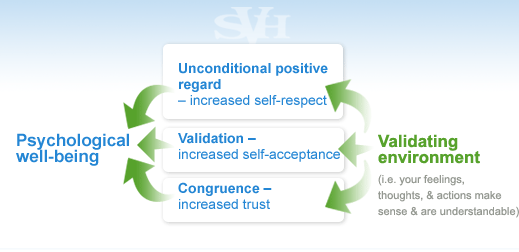 An integrative psychotherapist will emphasise building a collaborative understanding with his or her patient / client, and the setting of mutually agreed goals. The therapist will also focus on the patient/ clientís experiences in therapy as a way of seeking to empower the personís use of their own resources.
One of the main targets in therapy is to help you to identify core emotions and related needs that are not addressed and might cause psychological difficulties. For example, people with lots of worries and anxiety may find that their main need is to feel safe but that they also need to get use to the things they are afraid of, in order to experience peace of mind. An integrative therapist would seek to understand where this need to feel safe comes from and would also work to overcome the patient / clientís specific fears and / or anxiety.
Useful Information
Psychological treatment options :
1. Cognitive Behavioural Therapy
2. Systemic Family Therapy
3. Psychoanalytic Psychotherapy
4. Integrative Psychotherapy